American Clinical Laboratory Association
This Laboratory Professionals Week, we're taking a moment to thank laboratory researchers, technicians, administrative staff and medical officers who are going above and beyond the call of duty to serve patients during the COVID-19 pandemic. Today, ACLA is featuring BioReference's Chief Medical Officer and laboratory director who has played a critical role expanding public access to accurate, rapid COVID-19 testing nationwide.
A Trailblazing Chief Medical Officer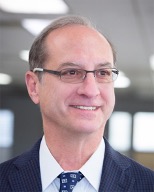 James [Jim] Weisberger, M.D., chief medical officer and laboratory director for BioReference Laboratories, is a board certified anatomic and clinical pathologist and has proven to be a trailblazer during this pandemic. Through resourceful innovation and guidance, Dr. Weisberger has demonstrated an unwavering commitment to expand public access to laboratory testing of COVID-19, specifically to critical patients, by ensuring they receive results in 24 hours or less. Under his leadership, the laboratory has processed and shared the results of more than 300,000 tests.
Dr. Weisberger dedicates many hours each day to safeguard key laboratory operations and quality systems. He has identified out of the box solutions to increase capacity, maintain turnaround times and leverage all resources to accelerate the COVID-19 diagnostic response. What's more, he also ensures that patients receive their results to help guide treatment.
"Providing patients accurate COVID-19 results as quickly as possible is our duty as a laboratory," said Dr. Weisberger when asked about his role during this unrelenting health crisis. "The ability to utilize emerging technology and provide further answers to health care providers and their patients is how we can limit the spread of the virus."
During Laboratory Professionals Week, many laboratory professionals are recognized for their contributions and join dedicated health care providers, first-line responders, policy-makers and members of the administration who are combating the COVID-19 pandemic.
Thanks to dedicated lab professionals, like Dr. Weisberger, commercial labs across the nation have performed more than 2.7 million COVID-19 tests to date.
Click here for original post on American Clinical Laboratory Association